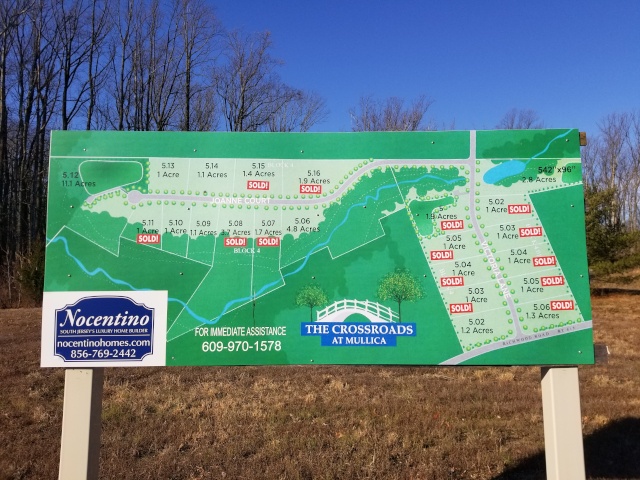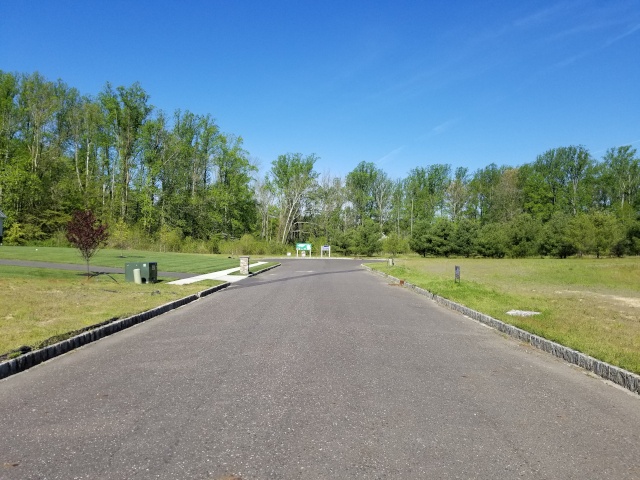 Only 22 Home Sites Available to Build Your Nocentino Dream Home!
The Crossroads at Mullica is a private enclave of 22 single-family home sites. Surrounded by mature woods, residents enjoy both privacy and a sense of a community. Each lot provides from 1 to 11 acres semi-wooded land with a custom home designed and built by Nocentino Homes.
Nestled in charming South Harrison Township, NJ, this custom home community is just minutes from major commuter routes including Route 55, the NJ Turnpike and Route 295.
Nocentino Homes offers the most customization in South Jersey.
Many home sites are wooded and range from 1 to 11 acres.
Homes from 3,300 sq. ft. and up
Luxury features such as granite countertops, 8′ first floor interior doors and hardwood floors in the foyer, powder room, kitchen and breakfast area included at no additional cost.
Kingsway Regional School District
Click the image below for a larger version of the site plan.
The Crossroads development is located off Fislerville Road (formerly Richwood Road) between Commissioners Road (Rt. 581) and Bridgeton Pike (Rt. 77).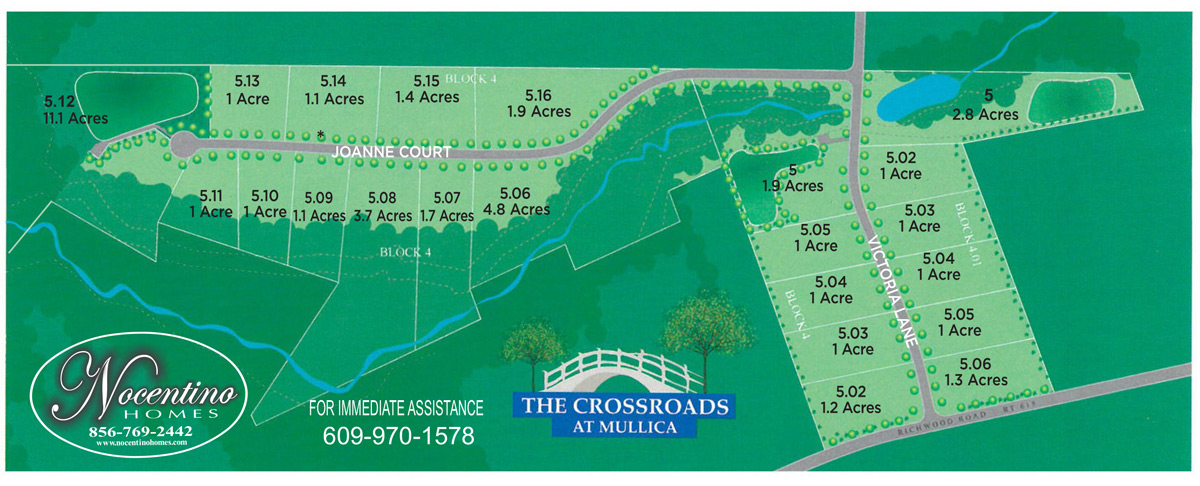 Click HERE to open a Google Map of the location
South Harrison Township, Mullica Hill, NJ
South Harrison Township is an exceptional community of over 2500 residents, comprised of approximately 15 square miles, within Gloucester County, NJ. The Township has a rich agricultural history that it strives to preserve to this day. Located fewer that thirty miles outside of Philadelphia, the Township can be reached by Route 295, State Highway 45, or Route 55. The Township has a Committee form of government, which consists of five members. South Harrison Township provides a full range of municipal services and is continuously striving to improve the quality of life for all residents.
Area Shopping
The Crossroads at Mullica is just minutes outside of the antique district of Mullica Hill, with nearby shopping including Shoprite, the Amish Farmers Market and more. Deptford Mall and numerous restaurants and shops surrounding the mall are just 20 minutes away, while Center City Philadelphia is just 35 minutes away.
School Information
South Harrison Township has their own elementary school for K-6 and is part of the Kingsway Regional School District for grades 7-12.
South Harrison Elementary School
Grades K through 6 
Website: www.southharrison.k12.nj.us
Principal – Dr. Joseph Campisi
Superintendent – Dr. James Lavender
Telephone: (856) 769-0855
Kingsway Regional School District
Grades 7 through 12
Website: www.kingsway.k12.nj.us
Dr. James Lavender, Superintendent 
Telephone: (856) 467-4600 ext. 4205 
E-Mail: [email protected]