Growing trend of mudrooms with cubbyholes
As seen on Philly.com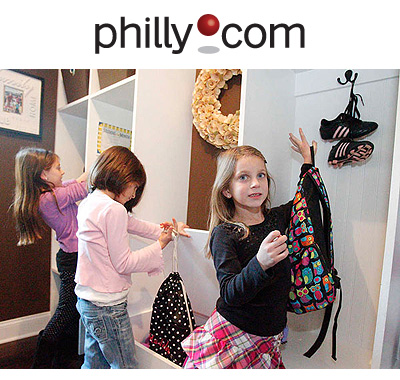 In the span of 30 minutes most afternoons in the DiFabio household, Carlie, 18; Sophia, 9; Madelena, 7; and Ariella, 6, discard their book bags, remove their coats, and kick off their shoes as they return from school.
But gear that might easily become confused – such as school supplies belonging to the kindergartner and the second grader – seldom is, thanks to a "locker room" in the DiFabios' home in Harrison Township, Gloucester County.
"It minimizes the chaos of having to get four kids out the door in the morning," said Alicia DiFabio.
In the nearly 80-square-foot room, each daughter has a cubbyhole with a shoe compartment, a bookshelf, hooks for outerwear, and a basket to store winter hats, scarfs, and gloves, said DiFabio, 45, a freelance writer.
"It helps teach them responsibility," she said. "And it keeps the family running more smoothly."
With four kids, it was important to balance the family's wants with functionality, said her husband, Anthony DiFabio, 41, a business executive.
"We want to have the house help and be part of the solution," he said, adding that the locker room also acts as a transition space for the girls: "We are in the house, and we are acting like we are in the house."
Constructing a mudroom with kid-friendly cubbies in this roughly 4,700-square-foot house was a first for his eight-year-old custom-home-building company, said Bob Nocentino, founder of Mullica Hill-based Nocentino Homes Inc.
For the family of six, Nocentino also built a custom bench with additional space under the seat.
"It is more storage that you don't see," Alicia DiFabio said.
"It goes along with the idea of a more-dressed-up closet arrangement," said Bruce Paparone, who builds high-end communities in South Jersey through his Stratford-based company, Bruce Paparone Inc.
Constructing basic built-in cubbyholes can cost as little as $5,000, said Kimberly Bunn, of Moorestown-based Bunn Architecture, but the cost could go as high as $25,000, depending on the client's design choices.
"I've done it in modest family houses and million-dollar houses. Every town has families with kids, and they all have the same needs," said Bunn, who added that empty-nesters with grandchildren also welcome the organizational assist.
Currently, Bunn has two mudrooms with cubbyholes in the works.
Twenty years ago, Paparone said, the feature was unheard of.
"But in the last eight or nine years," he said, "we've seen a propensity for people requesting cubbies."
Along with the DiFabios, six other homeowners in the eight-site Harrison Township community opted for dedicated kids' storage rooms with cubbies, which bring the efficiency of a school setting into the home, Nocentino said.
The custom properties started about $800,000 and could run upward of $1 million, depending on the amenities selected, he said.
At another nearby Nocentino community, the Crossroads at Mullica, one buyer included a locker room in the design, Nocentino said. Prices for the remaining homes in that 20-site community start just under $500,000, he said.
With about 80 percent of Nocentino's buyers in their mid-30s with children, additional requests for cubbies are likely, he said.
"They are very much trying to focus on their kids when they build their home," Nocentino said.
Princess suites and media rooms, where parents can monitor their children on electronic devices, are other popular choices among buyers, he said.